Seven Floor Plans from Famous TV and Movie Businesses
22/03/2021

We all have that one business from TV or film that we'd absolutely love to work for. Whether you've always dreamed of joining the accounts team of Dunder Mifflin, see your future pulling pints of Duff in Moe's Tavern or want to spend your days making coffees in Central Perk, there's always one business that you'd never want to leave.
Whilst you might never be able to physically walk around your favourite business, you can get a feel for some of our favourite businesses with these floor plans below!
Dunder Mifflin – The Office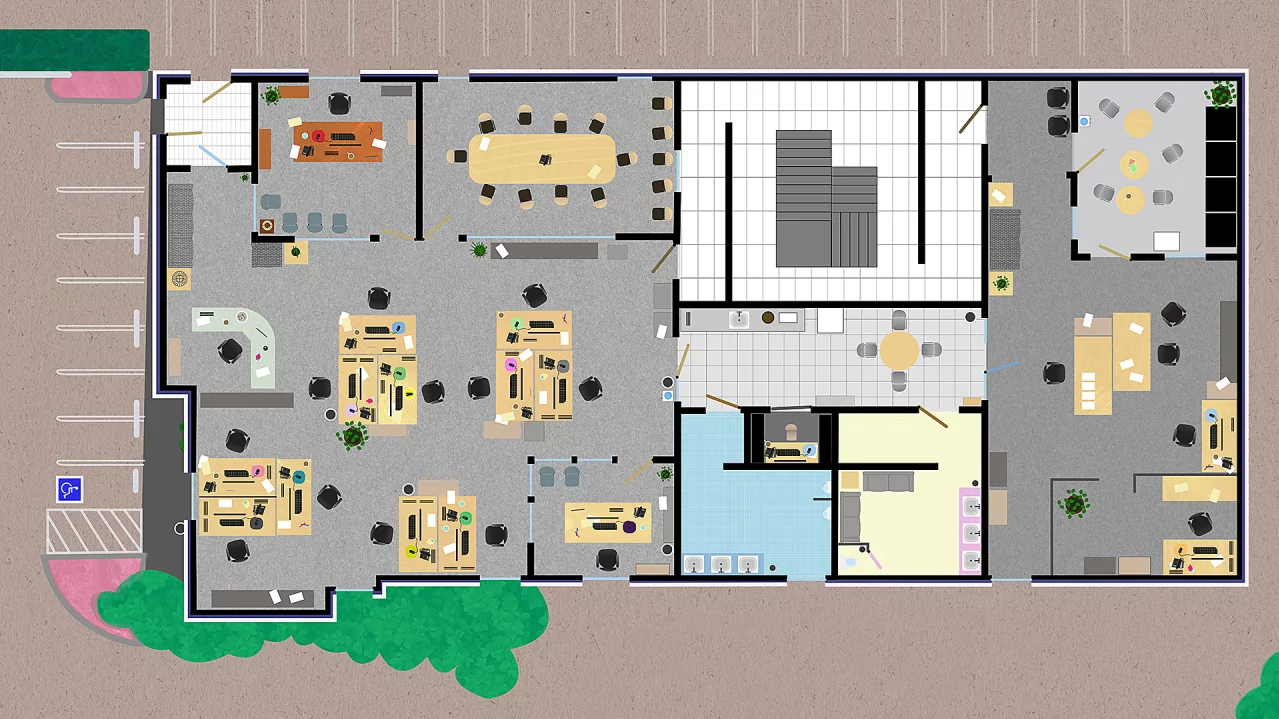 Dunder Mifflin saw more action than your average office, with a "fake" fire drill, a serious chilli spillage and even an employee being hit in the car park. Still, there's at least a small part of us that would love to work with Michael and the guys.
Moe's Tavern – The Simpsons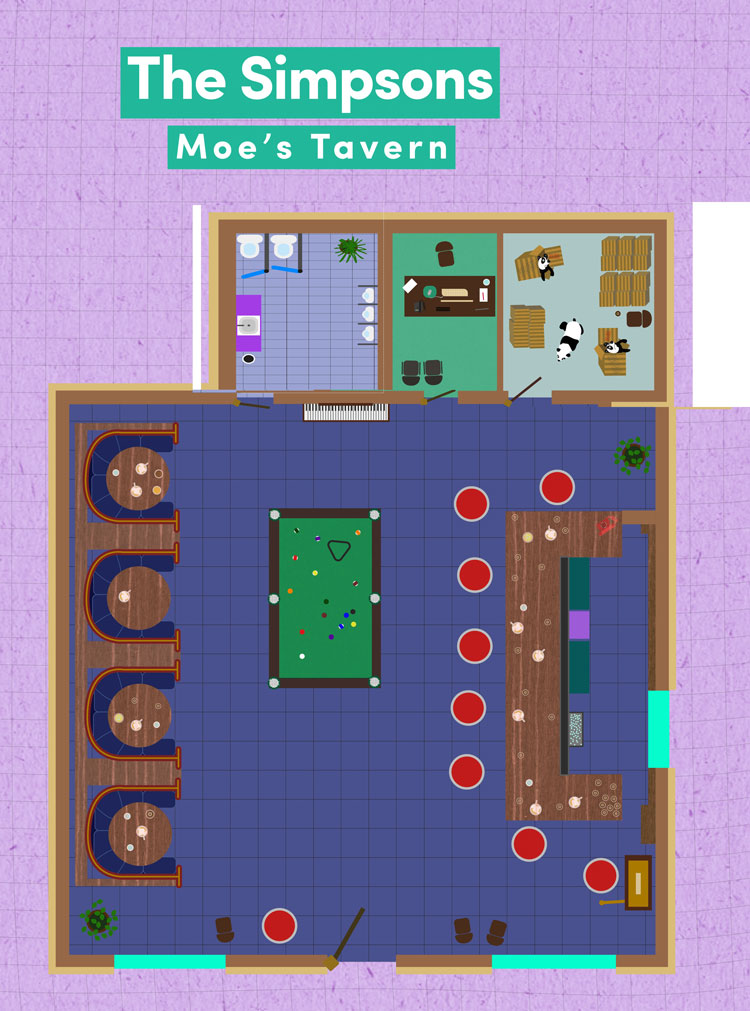 Moe's is a dank hole, but it doesn't stop his loyal patrons from coming in. As well as the women's toilet/boxing office, backroom for storing pandas and a small room protected by 3" of bullet-proof glass, he has all the usual bar facilities like a pool table and a men's room floor to find new Bee Sharps members on. Still, it's only worth $79,400/£51,610.
Central Perk - Friends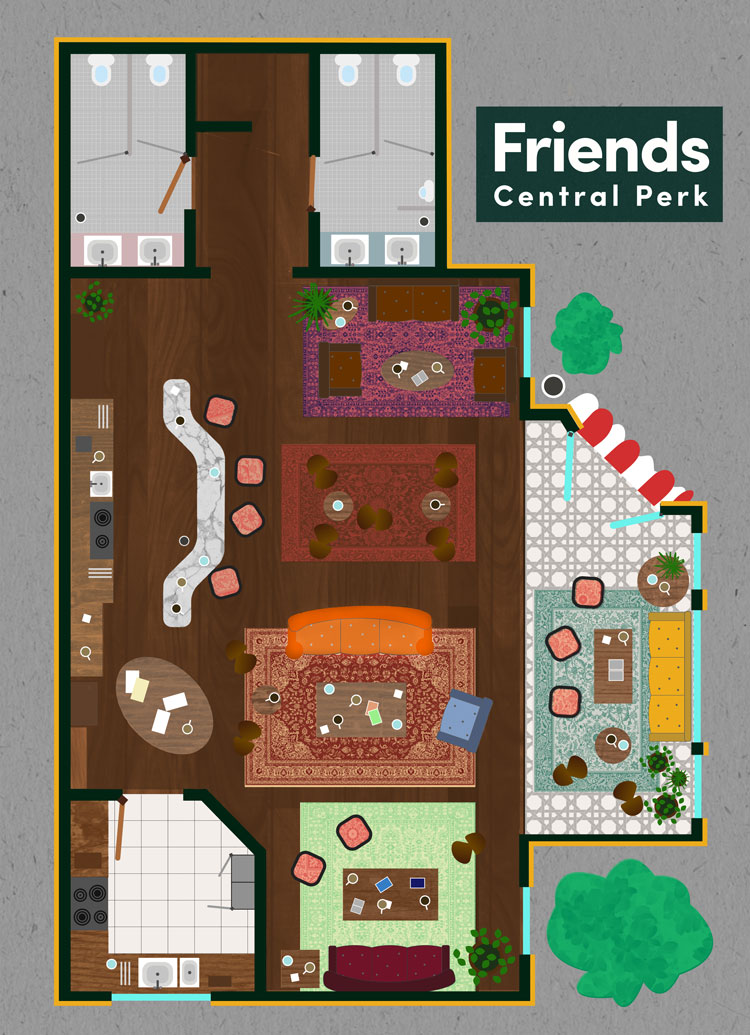 The New York-based coffee shop from Friends (which is worth $663,632/£436,600 by our valuing) had to be on the list of fictional business floor plans. You can clearly see the famous orange couch, Gunther's bar and even Phoebe's stage.
Paddy's Pub – It's Always Sunny in Philadelphia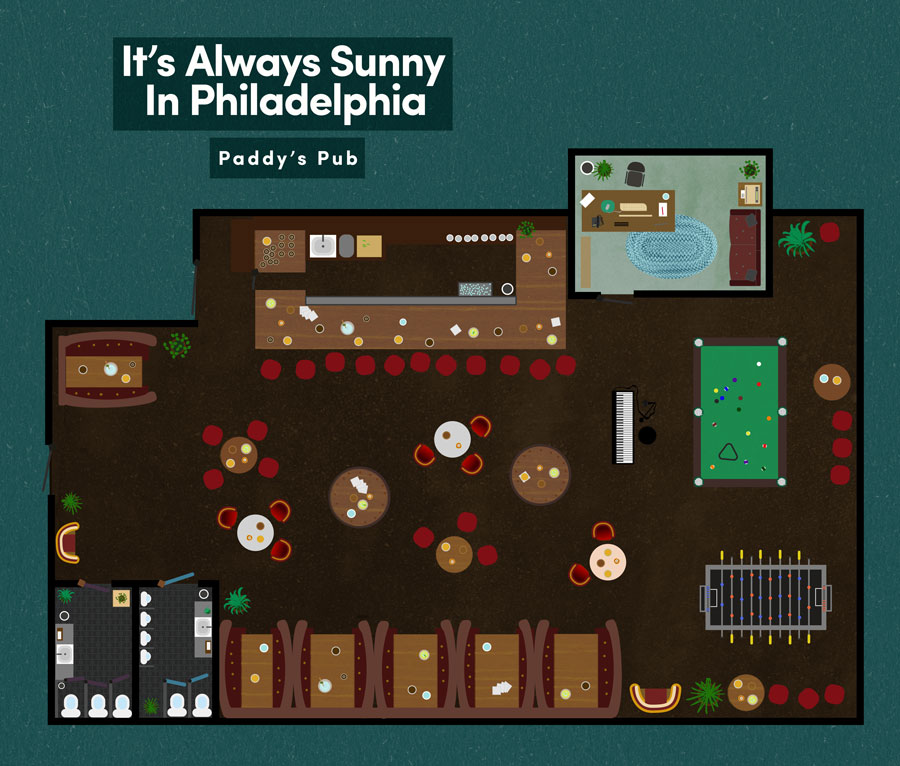 Paddy's Pub has undergone many changes in its history, but the layout's pretty much always stayed the same. From a lawless bar and gambling parlour to an underage bar to a gay bar, the gang always change it back to its unsuccessful ways!
Mos Eisley Cantina – Star Wars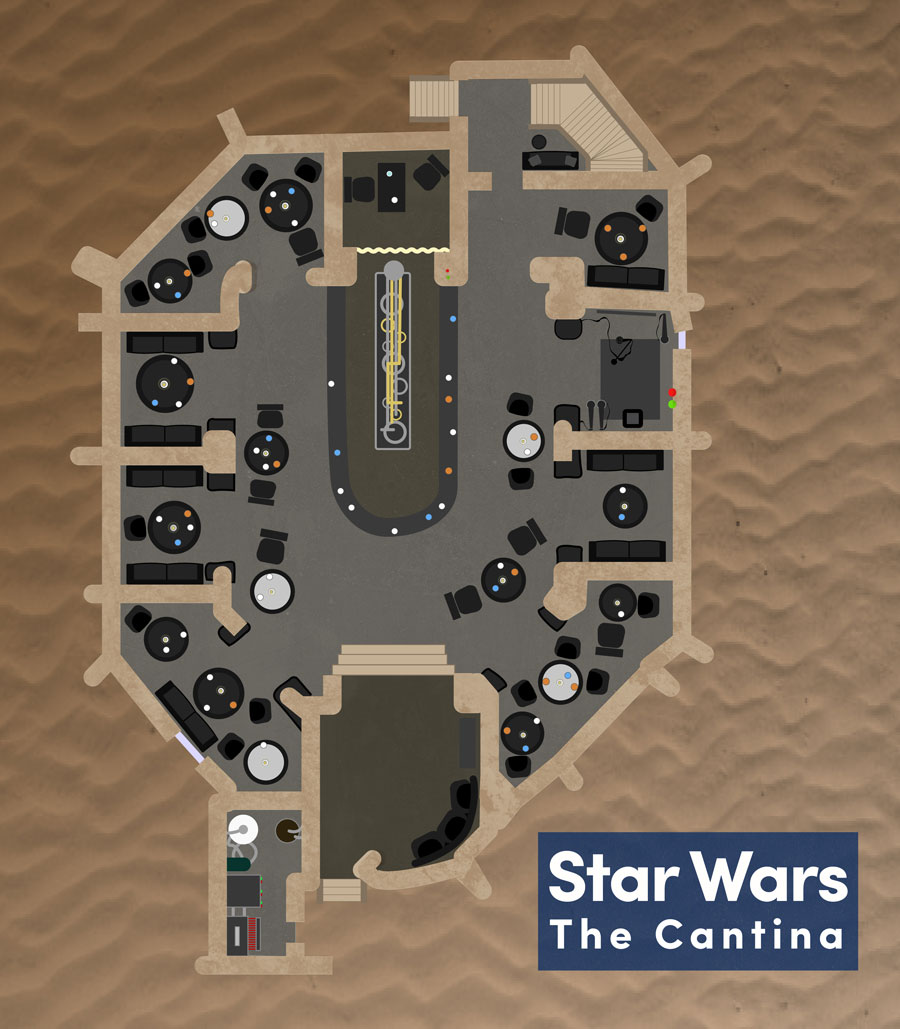 The cantina from Star Wars is one of the most recognisable businesses in science fiction. With Hann on the left and the band on the right, there's always something going on in this pirate city bar.
Sterling Cooper - Mad Men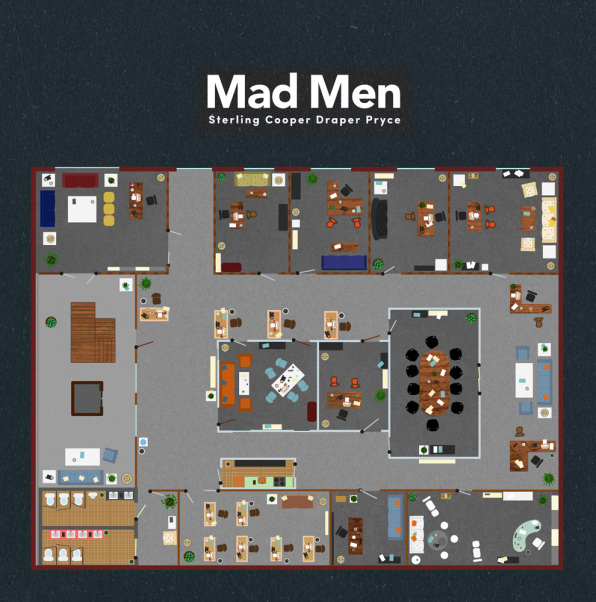 Don Draper is a stylish man, and he works in a suitably swanky office. The Sterling Cooper offices just ooze 60s chic, with lots of wood panelling and class. It may be from a bygone era, but it still looks unequivocally cool today.
The Comic Centre of Pasadena – The Big Bang Theory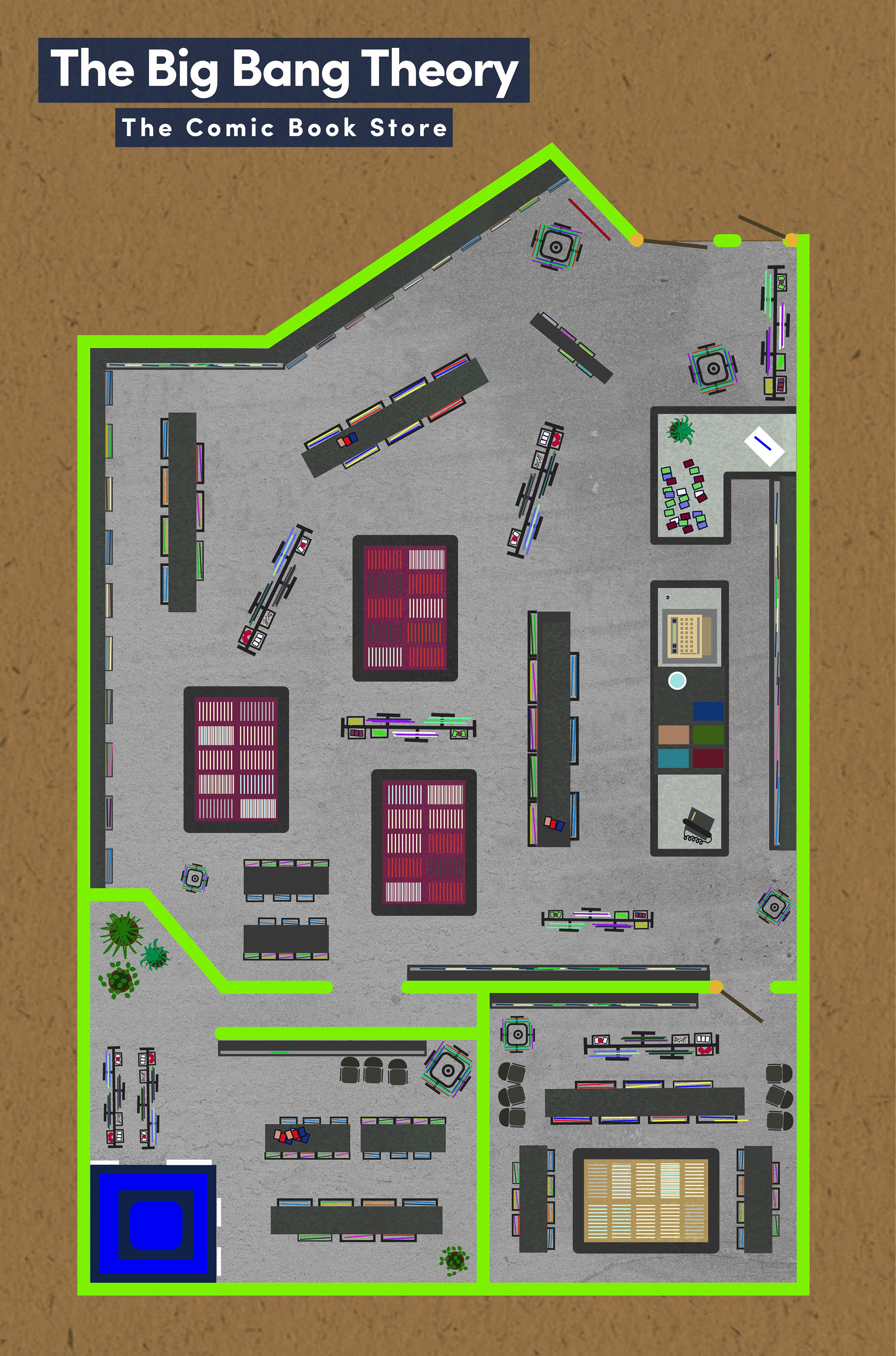 The Comic Centre of Pasadena, known more simply as the comic book store, is run by perpetual sad-sack Stuart Bloom. It went through a bit of a refurb after a "suspicious" fire but, following a donation from Howard's mother, reopened. Just watch out for Stuart's hotplate!