Top Tips for First Time Restaurant Owners
07/10/2014

Owning and running a restaurant can be both extremely rewarding, but also a little daunting.
So if you're thinking of taking the leap and opening your own restaurant for the first time, it's handy to start the process armed with as much information as possible.
Well, great news! You're in the perfect spot. We've compiled a list of top tips for first-time restauranteurs. Read on to get started on your new business journey.
Why Should You Run a Restaurant?
One of the most appealing aspects of the food catering industry is that every day is different - there's always something to do.
Even on quieter days where you may have fewer customers, there's likely to be a list of other tasks you can get on with to keep you busy.
If you enjoy a bustling, customer-facing role - then running a restaurant could be perfect for you.
At the end of the day, the core goal of your job is to make people happy. What could be more rewarding than that!
What Are the Challenges of Running a Restaurant?
Whilst customers are often the highlight for most restaurant owners, they can also be one of the most challenging aspects of this type of business. Whatever industry you're in, there will always be the odd person who's difficult to please.
Again as with every business be it office-based or catering, there are always going to be problems with staff, equipment and deliveries.
But it's how you deal with these issues that really matters.
Apart from this, there is a lot of varied, exciting work to do. It's worth bearing in mind that running a restaurant isn't just a job it's a lifestyle choice.
How Can You Make Your Restaurant Successful?
There are a number of factors that can influence how successful your restaurant will be. Here are a few things you should consider to try and boost your chances of being as profitable as possible:
1. Know Your Target Audience.
If you're based in the city centre, it's likely people will be coming in for a quick, light bite. If you're a destination spot, your key customers might be looking for larger meals and an expansive wine list. Tailor your menus based on what people are looking for.
2. Don't Over Stretch Yourself
When you're building your menu, it could be all too tempting to try and cater to everyone. But a menu that's too big will likely lead to issues; your kitchen staff will be overstretched plus you might find yourself struggling with produce management. Keep your menu clean and simple, with some key customer favourites that are easy to prepare but tasty and fresh.
3. Consider Your Online Presence
An online presence is important no matter what business you're running. Building a website doesn't have to be an expensive or time-consuming undertaking. Take a look here at our handy guide to discover how to build your own website. If you can, try to include an online booking system and keep up to date versions of your menus available for your customer's to browse.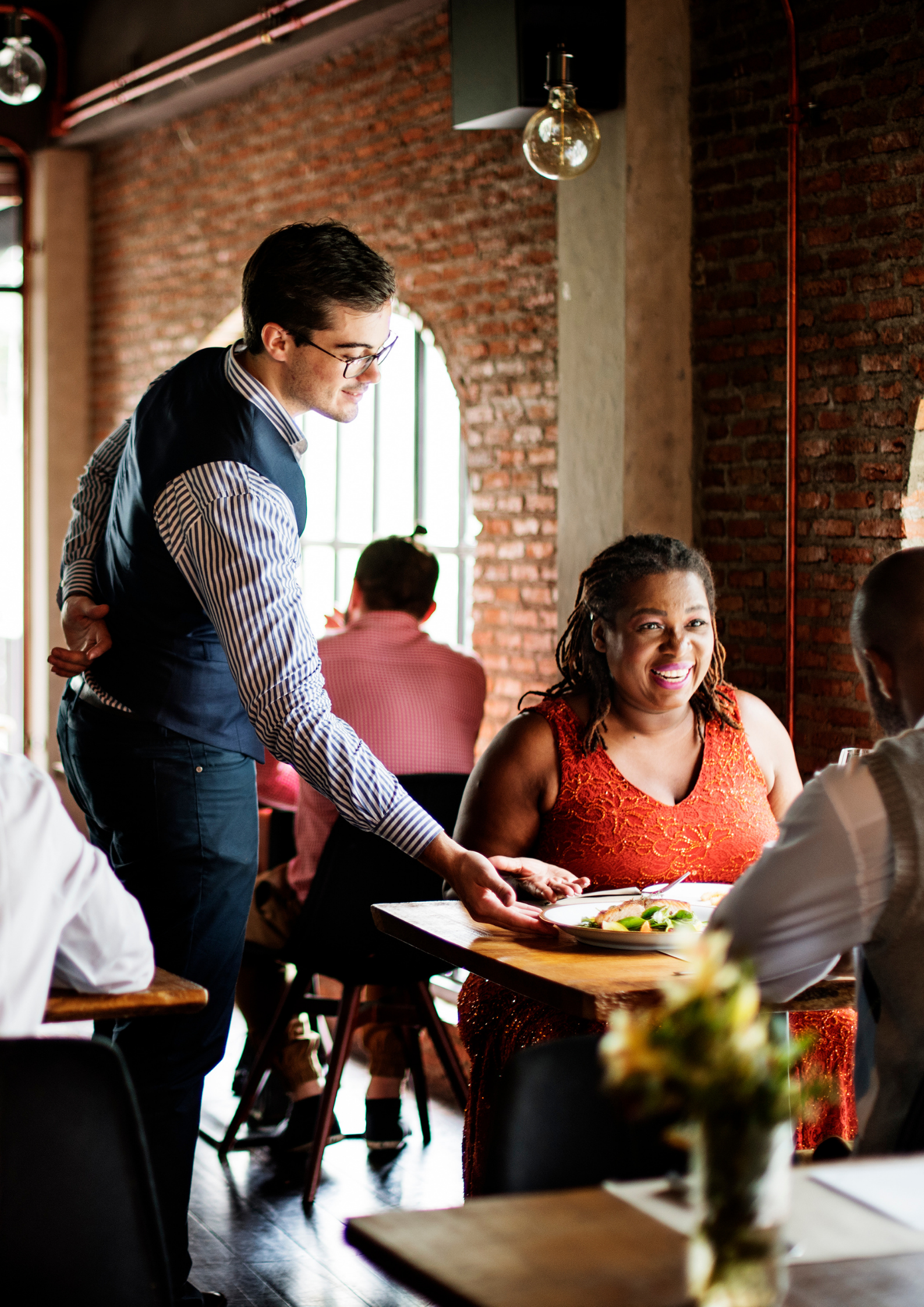 4. Train Your Staff
Your team members really are the face of your business - so be sure to keep them trained up as much as possible.
Knowledgeable staff providing good consistent service with well-presented food and clean restaurant is over half the battle. If people are impressed on entrance and during their visit then they will be happier customers overall.
5. Keep Your Prices Competitive
Make sure your prices are competitive for the quality of food and service you are providing. As an independent restaurant, you'll be competing with both other local eateries and chain establishments who can buy in bulk and advertise en mass.
Make sure you're restaurant premises is well decorated and welcoming, trying to sell good food in bad surroundings is a hard task (and unadvisable).
Normally a margin of up to 10% is acceptable, this allows for profit on the supplies to cover other costs associated with running the business and a small profit for you too.
And there you have it: our key tips for any first-time restaurant owners.
If you're thinking of buying your first restaurant, take a look at the businesses we have for sale here.
To keep up to date with any new restaurants as they come to market, register below and set up your saved searches - we'll drop you an alert whenever one comes to market.