How to Sell a Business on Bizdaq
30/04/2021

Welcome to your guide on how to sell a business on Bizdaq.
Follow our simple steps and your business listing will be live in no time.
Once you're live, just sit back, relax, and wait for the enquiries to roll in.
We'll send you an email when you get a notification, but don't forget to keep coming back to the platform to answer buyers' burning questions, respond to viewing requests, and negotiate offers.
Let's get started…
Creating Your Bizdaq Listing
So, you've decided you want to sell your business? Well, now it's time to create your free Bizdaq listing - how exciting!
Once you've made an account, you will need to click the 'Sell Your Business' button, you'll see it on the left-hand side of the page. Then, you can begin to build your listing.
---


Progress Bar
The progress bar will show you how complete your listing is. Once you've filled in all mandatory fields (the ones with a star next to them), you'll see an amber tick beside each section, and you'll be able to go live.
If you still have fields to fill in, you'll see an exclamation mark.
---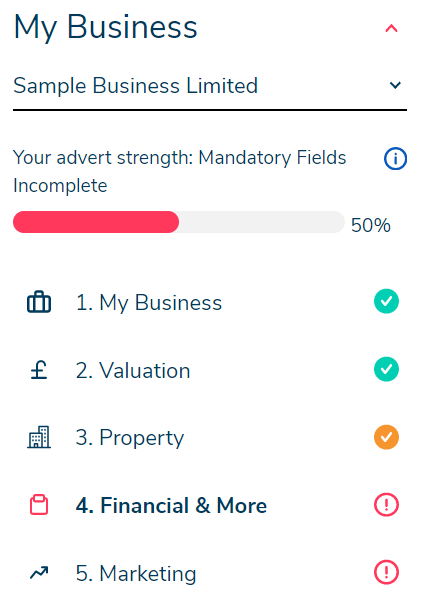 ---




All Green (Go You!)
We recommend filling in all fields to have your listing in tiptop shape. Then, once you've filled in enough fields, the ticks will turn green – this shows your listing is the best it can be and you're on the road to a fast sale.
---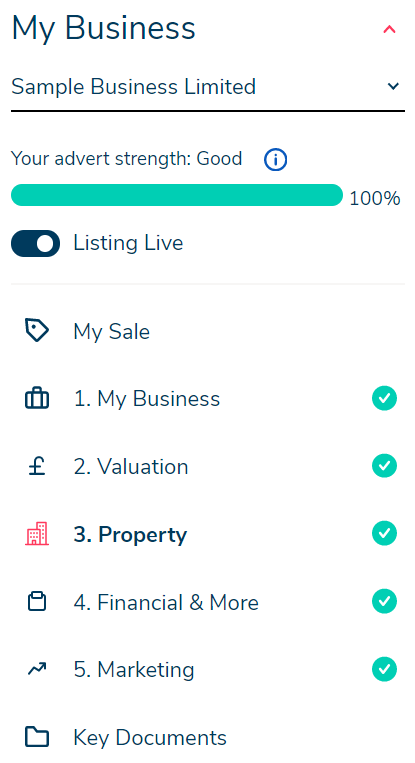 Let's take a closer look at the sections:
1) My Business:
This is the core information about your business – you'll need to complete this section before moving onto the others. But once you're past this stage, you can click into any of the sections and fill the fields out at your own pace.
2) Valuation:
You'll need to pop your businesses figures in here,
You'll need some financial info at the ready for this section, but don't worry, it's not complicated. But you'll need to know key figures such as turnover and net profit – along with any relevant adjustments such as director's salary.
Then, our valuation calculator will provide you with an instant guide price.
If you already have a price in mind, great, use it!
(Pssst, if you can't wait, check out our free valuation calculator here for an instant price range. But make sure you come back to this page so you know how to complete the rest of your listing!)
3) Property:
Leasehold, Freehold, or Relocatable? This is the place to tell us.
4) Financial & More:
Pop a few more bits about your business here. Don't worry, there's only a couple of things you need to know, such as the year your business was established and how many employees it has.
5) Marketing:
It's time to shout about how great your business is. Upload images here, make sure they're landscape – this will provide the best view on site.
Next, get your description filled in – but don't worry you don't need to write anything, we'll do the work for you!
Press the pink 'Generate Overview' button. Your business description will be auto-generated, so no need to worry about what to write. These auto-generations pull the listing info you've provided us and fit it into templates.
You can keep clicking 'Generate Overview' to find new templates, so keep going until you find one that you're happy with. They have been specially crafted by experts to give your listing the best chance of standing out on search engines like Google (something known as SEO).
Look out for these

along the way, they'll help you if you're stuck...
---
Time to Go Live:
Once your listing is live, you'll see the 'My Sale' section appear on the left-hand side of the page. Use this to keep on track with your business's sale performance.
You'll be able to see how many people have viewed and saved your listing, along with all other interactions such as viewing requests and offers.
Buyers and sellers can also interact through the messages section, so keep your eyes peeled for notifications.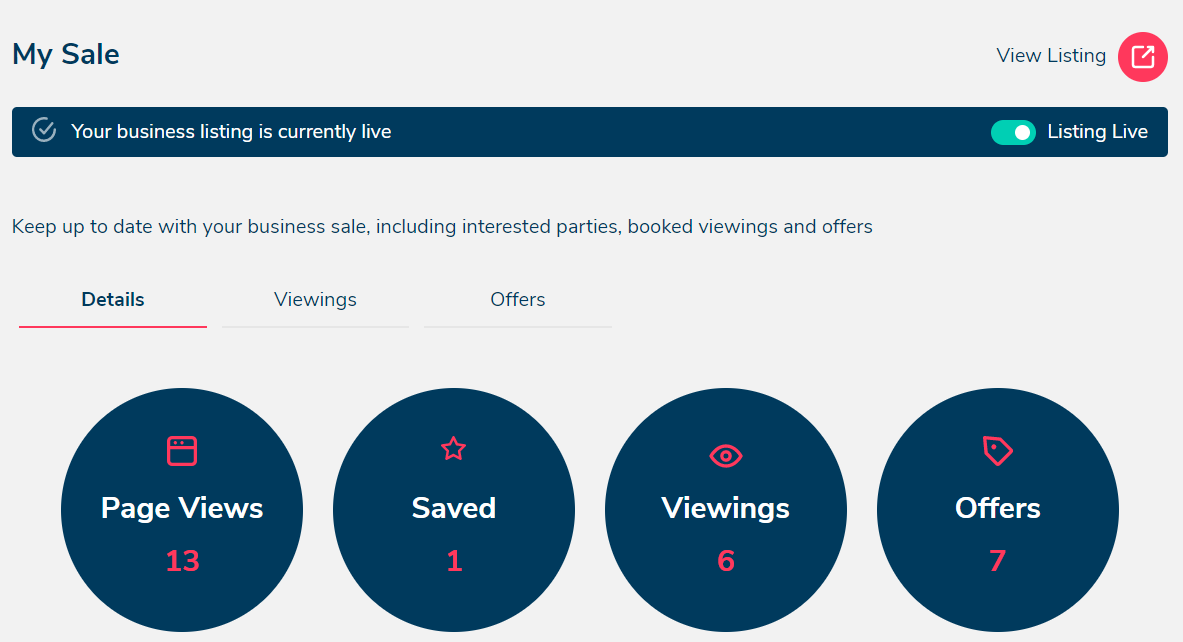 ---
Negotiating the Sale
Now that you've completed your listing, viewings and offers will start to roll in.
On Bizdaq, buyers and sellers interact directly. With no broker in the middle passing messages between parties, it means that is selling on Bizdaq is the most efficient way to sell your business.
Once you've got an interested buyer, it's time to move on to negotiations.
This stage is crucial - it is when the buyer will decide on their offer. So, make sure to keep checking in on your Bizdaq account to see any new notifications and answer any burning questions buyers may have.
Negotiations will then be formalised, then, it's time to finalise the sale. When both parties are happy with the offer and terms, it's time to transfer the funds and for the business to officially change hands.
Want more info on what happens after an offer is accepted? We've got a more in-depth guide here.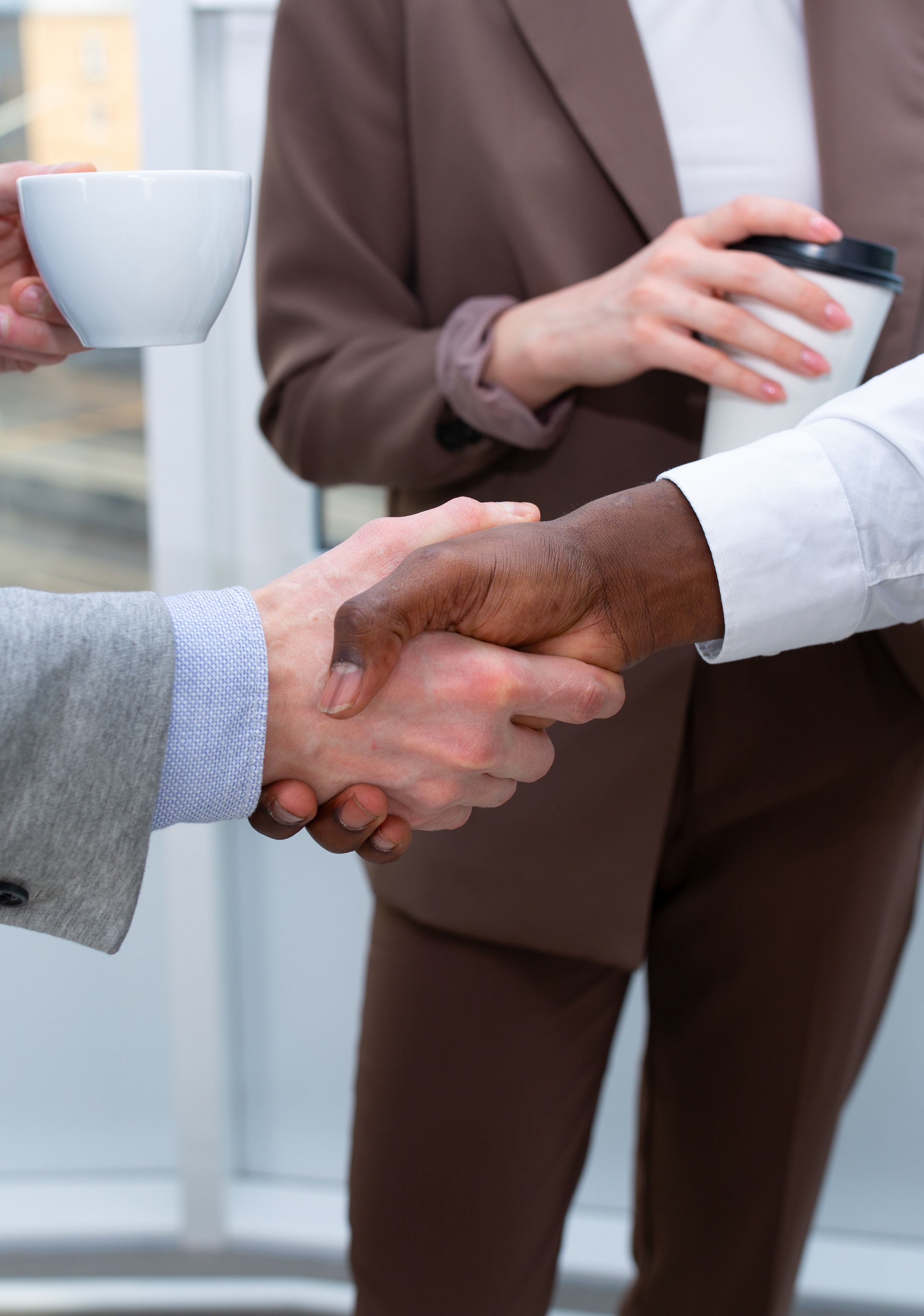 And that's it, easy-peasy.
Once you set your listing live, it will be seen by our network of over 100,000 buyers. Those who are looking for a business just like yours will be notified that yours is now on the market – how exciting!